Music Industry Trends to Expect Post-COVID:
---
Live Events Safety Precautions, New Revenue Streams, Livestream Monetization
The past few months have been quite surreal and have had devastating effects across industries with one of the hardest hit being the live events business. While we may be starting to see the light at the end of the tunnel we still have some work to do and with that comes many changes. The live events industry will see new safety precautions, new distribution models have popped up that allow creators to engage with their fans more. These changes have also created new revenue streams from tipping to sponsorships.
The music industry is constantly evolving and many trends we are seeing now have been well underway but now COVID-19 has forced businesses to accelerate their plans.
Be flexible, be adaptable, be creative, be entrepreneurial.
---
1)
Livestream Sponsorships
Event sponsorships have always been a highly effective way for brands to authentically connect with consumers through shared passions such as sports and music. With mass gatherings on pause, there are now millions of dollars at stake that brands now need to reallocate to reach their target audience. Livestreams is the perfect way to do so as this is a win-win as it provides a way for creators to monetize their streams and for brands to continue reaching their audience.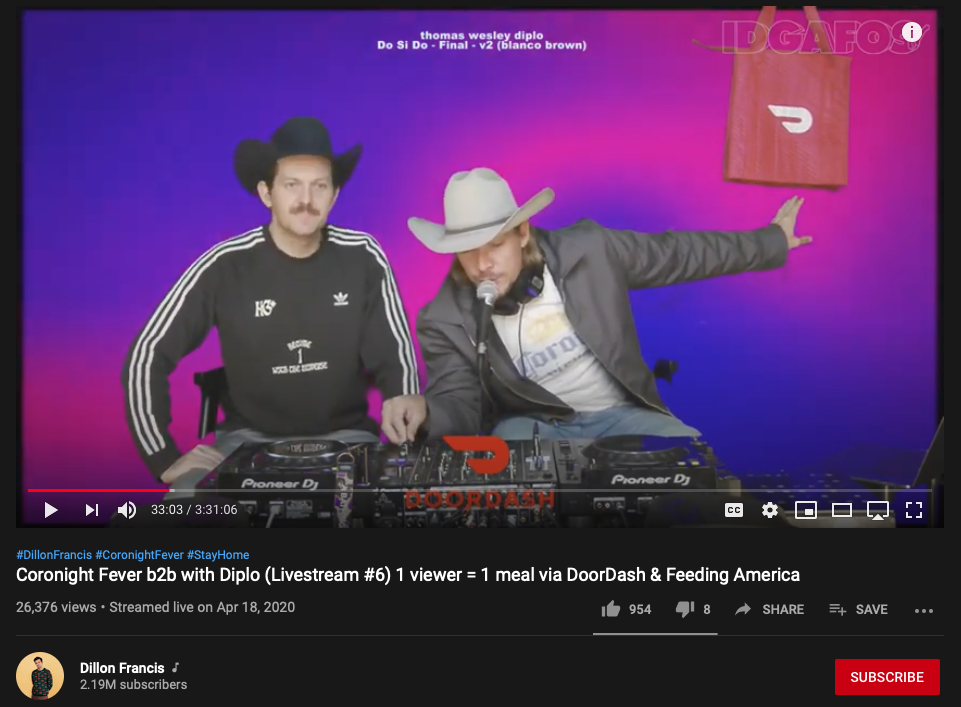 DoorDash sponsored Diplo and Dillon Francis' DJ mixes with a perfect integration that wasn't sales-driven and gave the viewers an additional reason to tune and to feel good about doing so. In partnership with Feeding America, DoorDash gave a meal to a family for each person who tuned into the livestream.
---
2)
Livestreams & Tipping
In China, virtual tipping provides a widespread, legitimate revenue stream for artists. Some think the pandemic will help normalize the practice in the US. As the pandemic has shut down economies across the globe, many artists are asking fans directly for cash — and music companies like SoundCloud and Spotify have added features to help them do so. While the "virtual tipping" common in China has long provided a way for users to support their favorite creators on music streaming platforms and social-networking apps like WeChat, those methods have yet to take off in Western markets. Facebook has also announced plans to help creators monetize their livestreams through virtual events.
The industry has rallied around its community with several funding efforts available to people whose incomes have been affected by coronavirus. These include significant donations from Universal Music Group (UMG), Live Nation Entertainment, as well as streaming giants such as Spotify, Amazon Music, TIDAL, YouTube Music and countless others. China's largest music platform, Tencent Music Entertainment, is also joining efforts through its parent company.
---
3)
82% of Festival-Goers 'Feel Confident' To Return To Live Events After COVID-19 Lockdown Is Lifted
Around 82% of music fans "would feel confident" attending a festival within one to six months after the COVID-19 lockdown ends.
Furthermore, within that group, 66% would feel confident enough to attend within one to three months, while 30% would happily do so immediately after lockdown is lifted.
That's according to a report published by UK-born festival ticket and travel booking platform Festicket, which surveyed over 110,000 festival-goers from countries such as the UK, France, Germany and the Netherlands.
Day festivals topped the list of events respondents indicated that they are happy to return to first once lockdown is lifted but around 70% said they'd also happily go to a weekend festival.
Meanwhile, 59.5% of people said they would feel confident attending music events in their own country and globally in 2021.

Additionally, 75% of festival-goers are confident that 2021's season will be unaffected and that they'd feel confident booking tickets for 2021 events within the next two months.
Similarly, festival-goers believe they'll still spend big on their future festival trips, with 34% saying they'll spend between €250-€500, while another 24% said they'll spend more than €500.
The survey also found that festival-goers expect live events to introduce safety measures such as hand sanitizing stations, operating at a reduced capacity, and offering free cancellation on tickets.
Over 82% of festival-goers said that free cancellation would be a key consideration when booking future events.
---
4)
Live Events & Safety Precautions
Eighteen months, possibly two years.
Barring a successful and widely available COVID-19 vaccine, that's how long several music business insiders say it may take for the concert and touring business to return to a modicum of normalcy.
For now, shows will look like the first socially distanced concert that happened early this week. The hope is to undersell large venues, for social distancing. One agent at CAA floated the idea of an artist performing multiple times in a day, instead of one big show, with open-air venues likely to be the first to open. Since it will be hard for artists to tour based on some states still being in quarantine while others open up, there is a possibility of long term residencies at a certain venue being thrown around.
As for ticket prices, there is a belief that due to the possible recession and fans' hesitance to attend shows, ticket prices will need to be lowered. The comparison was made to the 2008 recession in the U.S. where ticket prices were lowered 5% – 8%. There is an argument where larger acts who will need to book more intimate venues, can end up charging more for the unique experience. Although, it's hard to say what fans will go for until they try.
There will be a heavy focus on sanitation and health checks. There will be temperature checks upon entry. Face masks and testing stations will become the norm of the concert experience for a while. Hand-sanitizer stations will be everywhere. One part of the concert experience that is likely to not come back for a while is the meet and greet experience.
The other big change is how artists are paid. The days of guarantees for artists look to be on hold. Instead of upfront payments, more artists are taking a split of the box-office, adding a lot of risk to touring, with one agent noting that it is going to be a "multi-year process" to get the health of the industry back.
Among the recommended guidelines:
Hand-washing every hour, as well as after sneezing, mopping, smoking, eating, drinking, and other select activities.
Required masks.
Sanitizing door handles, sink faucets, soap dispensers, elevator buttons, phones, water fountains, vending machines, trash bins, and computers, among many other things.
Stagger lines into venues so patrons don't have to cluster in lines.
Temperature screening for every customer.
Clear protective shields for will-call and box-office windows.
Employers must provide paid sick leave. When employees can't stay six feet away from others, they should form work teams "in which people routinely work together, but they keep their distance from everyone else."
Educate fans "in a word, everywhere," including mobile apps, ticket-selling sites, and social media.
---
5)
Evolving Business Model
As consumption has grown, spending habits have changed. While some consumers take on more subscription services at home, others have opted out of subscriptions under financial pressure. Services with a dual business model are able to retain their customer relationship through the crisis, churning into a free-to-consumer, ad-funded model until the economy recovers. As consumption patterns have shifted to in-home during the crisis, device- and platform-agnostic services have been able to follow listeners.
Maintaining adaptable monetization strategies may open new avenues for the industry to work with other sectors in the future. For example, gaming and TV integrate songs, compositions and musical scores into their content – but these synchronization revenues currently account for only 2% of recorded music revenue. The business frameworks for synchronization deals are currently underdeveloped, so there is an opportunity for growth – even if it is a long way from reaching a comparable share of revenue to streaming.
---
6)
Advertising Spend 
The music industry is also subject to reductions in advertising spending that are happening worldwide. A survey by the Interactive Advertising Bureau shows that around a quarter of media buyers and brands have paused all advertising for the first half of 2020, and a further 46% have reduced spending. This, combined with an approximate one-third reduction in digital ad spending, will affect ad-supported music channels – and therefore both total industry revenue and individual income for artists. Spotify announced that it missed its first-quarter advertising targets in light of changes to ad budgets.
---
7)
Distribution & New Ways to Engage Fans
Streaming in the U.S. is actually down by 9.9% during the first four weeks of quarantine compared to the first 10 weeks of the year. In the meantime video streaming, YouTube, and television viewing has gone through the roof.
What this means is that auto commute time listening has more of an effect on streaming usage than anyone expected, and when given the choice, consumers will always turn to content based around picture rather than audio-only.
On the distribution side, there is a growing list of artists delaying releases to later in the year. In part, this is due to the inability to use tours to promote new albums, and live music, in general, has been dramatically affected.
As music consumption is increasingly digital, there is a growing role for third-party platforms in shaping music distribution, discovery, and consumer behavior. During the pandemic, Fortnite hosted a live rap concert with Travis Scott that attracted almost 30 million live viewers, underlining the potential for cross-industry partnerships to engage users and promote artists in a new way.
Wave is one company making a splash in what will be the next wave of the music industry, VR Concerts. They have previously collaborated with an impressive roster of artists including The Glitch Mob, Kill The Noise, TOKiMONSTA, Imogen Heap, REZZ, Jean-Michel Jarre and electronic violinist, Lindsey Stirling, among others. The recent Lindsey Stirling Wave attracted more than 400,000 live unique viewers from around the globe.
"The fan engagement is what makes the Wave experience so exciting", Adam Arrigo continues. "Fans become active participants in the concert experience, chatting directly with the artist and each other, cheering and sharing reactions. This two-way dialogue and intimate interaction are what Wave is all about."
---
8)
Entrepreneurial Spirit
"Creatives" are often thought of as lacking business skills, which is a myth I hope to contribute towards debunking. In my time working to develop artists, from indie to platinum-level, the most successful have been the most entrepreneurially minded.
The Embraced musician is an entrepreneur birthed out of necessity. Living by the creed of "desperate times call for desperate measures," these individuals will find every opportunity to sustain their careers. Performing livestream concerts at home, video messaging with fans, custom songwriting for hire, teaching lessons online, continued education or even writing a catchy pandemic-themed song are all creative outlets to explore. The Embraced musician will create an opportunity out of what others deem a crisis.
All that leads to a giant reset in 2021. Fewer people will be commuting as more people continue to work from home. That means less regular music consumption, at least until the new norm has been reached.
Expect the indie labels to be much more resilient. They're always working on a shoestring anyway, are nimble, and know how to adapt. Many with revenue that revolves around physical product do much of their business direct to consumer, so record store and distributor closings might hurt, but probably won't be a fatal blow.
---
All profits from the PVRP Music Cares Collection go to MusiCares.
Are you a music industry professional effected by COVID-19? Share your story here.
Blog: COVID-19 Resources
---